Ultimate Activity Camps for 8 to 9 year olds
8 - 9 Year Old Holiday Activities
Ultimate Choice - make your day!
As children get older, we know they want to be more in control of what they do which is why every day the over 8's have 'Choice' guided activities where they can tailor their Ultimate experience to include more of what they like. Ultimate Choice is a great way for children to spend more time doing the activities they really enjoy. As well as providing safe activities and experienced staff, our activities encourages the physical welfare of children. Click here for details about how we ensure your child's welfare while in our care.
We also get all children in this age group together for 'Wide Game' sessions where they mix to enjoy team activities. Here's a sample weekly timetable - activities change every day!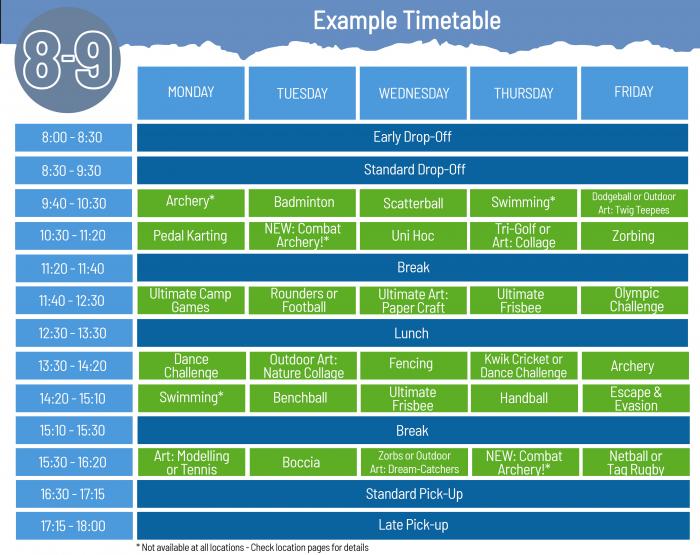 Something new every day
With a camp average staff to child ratio of 1:8, children will get the care, attention and guidance they need to get the most out of the activities. They will be grouped with children of a similar age which means they get the right level of childcare and instruction, making it easier to make new friends. With a massive range of activities on offer, there's no shortage of options whether it's action and active, or art and craft. Each activity lasts 50 minutes, plenty of time to have a good go at the activity and in the afternoon children have options which means they can focus on sports, games or arts activities – it's up to them. Zorbing and Ultimate Inflatables are rotated around all locations to ensure that it is available each week for children, but not every day.