Ultimate Activity Camps - 4 to 5 year olds
4 - 5 Year Old Holiday Activities (Juniors)
Lots of care, lots of fun!
For children aged 4-5 years, we have developed a specific activity-based day camp programme that's led by Early Years qualified staff to ensure children are well looked after and receive age-appropriate care - and of course, have lots of fun! With 1 member of staff for a maximum of 8 children, Juniors get the attentive care they need, and for familiarity and reassurance they'll only have one group leader through the week. As well as providing safe activities and experienced staff, our activities encourages the physical and social welfare of children. Click here for details about how we ensure your child's welfare while in our care.
Here's a sample daily timetable - activities change every day and week!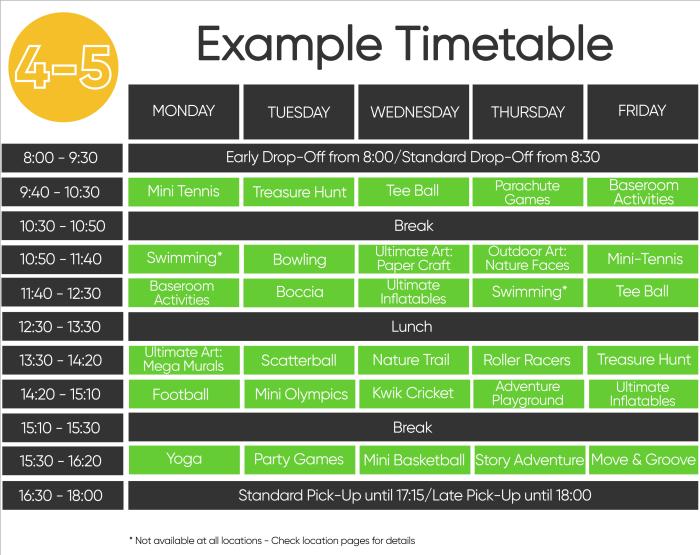 * Activity not available at all locations. Please visit your chosen location page for details
Activities for 4-5 year olds - fresh air fun!
Below is a list of the activities that children aged 4-5 years may find on an Ultimate Activity Camp - due to location facilities, some activities may not be available at all locations - check locations pages for full details of activities available. 
Variety and their own space
Junior camps are run as separate, smaller camps to the older children with their own space and equipment that's tailored to their needs. We know Juniors like to have fun and try new things, but we also know they need more down-time to rebuild their energy reserves. The Junior timetable alternates between energetic and quieter sessions, with the emphasis on care and stimulating them through variety. Each week there's a huge range of activities spread over 28 sessions lasting 50 minutes.