Ultimate Activity Camps for 6 to 7 year olds
6 - 7 Year Old Holiday Activites
Participation and enjoyment
With a hunger to try new activities and more energy, 6-7-year-olds have a day camp programme of great activities that focus on physical coordination, participation and enjoyment. With an exciting mix of games, sports and art activities, every day is structured to give children the chance to learn and try new activities and creative sessions, with games in-between to burn off some of their boundless energy! As well as providing safe activities and experienced staff, our activities encourage the physical welfare of children. Click here for details about how we ensure your child's welfare while in our care.
Here's a sample daily timetable - activities change every day!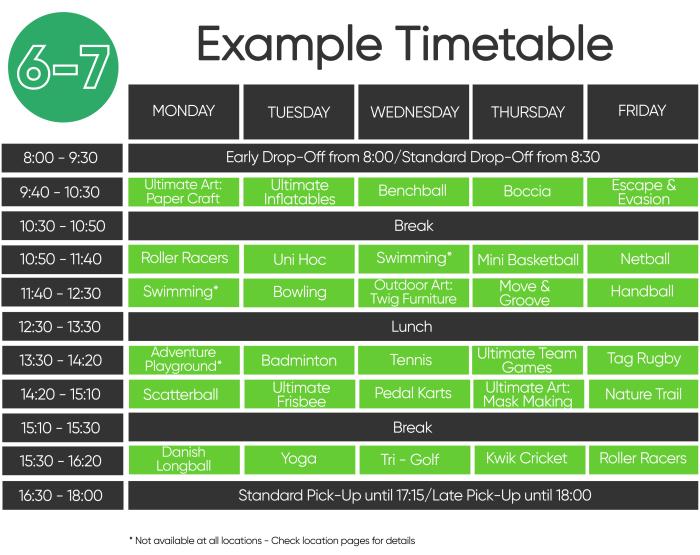 Try new activities
To ensure children receive high levels of care and instruction on each activity, there's 1 member of staff to a maximum of 14 children, although the camp average is 1 to 8. Each week there's a massive range of different activities from swimming and crafts, to fencing and inflatables. Spread over 6 sessions each day lasting 50 minutes – long enough to have a really good try at activities. Ultimate Inflatables are rotated around all locations to ensure that it is available each week for children, but not every day.
Activities for 6-7 year olds - fresh air fun!
Below is a list of the activities that children aged 6-7 years will find on an Ultimate Activity Camp - due to location facilities, some activities may not be available at all locations - check locations pages for full details of activities available.