Ultimate International
Learn English with English children
Activity day camps for 4 to 14 year olds
During our 2017 Summer Camps, we offer combined day camps for both British and international children. For international children aged 4-14 years coming on holiday to the UK with their parents*, we offer the opportunity for children to join our day camps from Monday to Friday.
Over 40 activities – a new experience every day!
2 hours of English tuition every day
Outstanding locations and facilities
Over 25 years' experience and Ofsted registered
One of the best ways to learn English is by mixing and integrating with English children on our exciting and varied activity programme. The children are split into different age groups to ensure the level is suitable for their needs.
Ultimate International
For international children age 4 to 14 years attending Ultimate Activity Camps, we require a reasonable level of spoken English. For children without a reasonable understanding of English language (upper intermediate), children must take our Ultimate International option which offers effective English language lessons which will maximise your child's ability to improve their speaking level both in and outside of the classroom, integrate better with English children and understand basic safety instructions.
Ultimate International provides 2 hour of English language tuition every day from Monday to Friday - see below for example timetable. *All children must be in the UK accompanied by a parent (or authorised guardian) who will be responsible for bringing and collecting the child from camp every day.
Sample Timetable
Below is a sample timetable which shows the activities on offer each week - the order of activities will vary from week to week to ensure the best variety each day and week.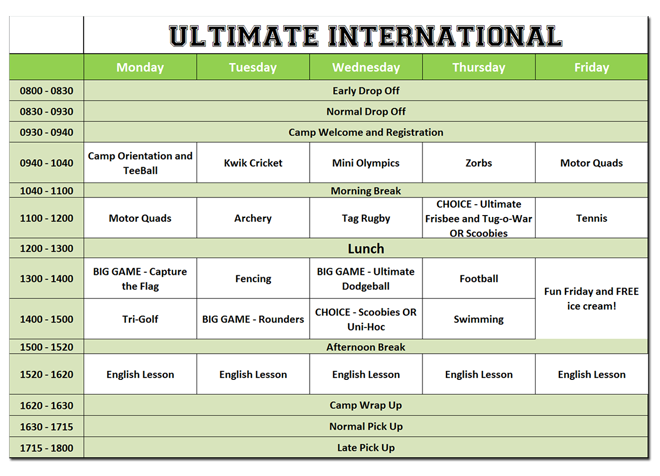 Locations
Our camps are run at some of the UK's best schools which offer outstanding facilities that are ideal for running holiday activity camps. All Ultimate Activity Camp facilities are Ofsted registered which means our venues, programme of activities, policies and operating practices meet the requirements set out in Ofsted's guidelines so you know your child will receive the highest levels of care and welfare.
Ultimate Activity Camps with Ultimate International runs at the following prestigious locations:
Prices