Ultimate International
Learn English with English children
Activity day camps for 4 to 14 year olds
During our Summer Camps, at a selection of our Ultimate Activity locations, we also offer an option for international students aged 4-14 coming to the UK with their parents* to join our day camps from Monday to Friday.
Over 40 activities – a new experience every day!
2 hours of English tuition every day
Outstanding locations and facilities
Over 25 years' experience and Ofsted registered
One of the best ways to learn English is by mixing and integrating with English children on our exciting and varied activity programme. The children are split into different age groups to ensure the level is suitable for their needs.
Ultimate Activity with English Lessons
For international children aged 4 to 14 years who would like to attend Ultimate Activity Camps, we require at least an upper Intermediate level of spoken English however children of all ages and ability levels are able to join with Ultimate Activity with English lessons. It is required that all children aged 4-6 without English as a first language take part in the English lessons whilst on camp.
Our English lessons will maximise your child's ability to improve their speaking level both in and outside of the classroom, integrate better with English children and understand basic safety instructions. If you are unsure whether or not your child requires or would benefit from English lessons, please contact us. We also have a useful placement test that your child can complete to make sure they are on the right Ultimate Activity programme.
Ultimate International provides 2 hour of English language tuition every day from Monday to Friday - see below for example timetable. *All children must be in the UK accompanied by a parent (or authorised guardian) who will be responsible for bringing and collecting the child from camp every day.
Sample Timetable
Below is a sample timetable which shows the activities on offer each week - the order of activities will vary from week to week to ensure the best variety each day and week. Please note that English Lessons will either take place in the morning or the afternoon.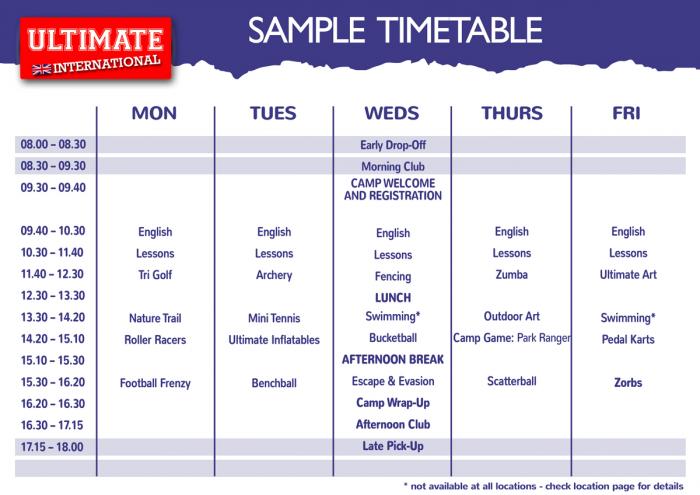 2019 Locations, Dates & Prices
Ultimate International is back in Summer 2019 with a handful of locations running in Easter. See below for details. 
Locations
Our camps are run at some of the UK's best schools which offer outstanding facilities that are ideal for running holiday activity camps. All Ultimate Activity Camp facilities are Ofsted registered which means our venues, programme of activities, policies and operating practices meet the requirements set out in Ofsted's guidelines so you know your child will receive the highest levels of care and welfare.
Ultimate Activity Camps with English Lessons runs at the following prestigious locations:
Easter 2019
Mon 8th - Fri 12th April - £405 

Mon 15th - Thurs 18th April - £324
Summer 2019
Prices
Standard Weekly Price - £405.00
Our camps represent great value and we are confident that our Ultimate International teachers will help children aged 4-14 years to improve their English and leave our camps happy and inspired!
Click here for more details about Ultimate International lessons

Monday to Friday - includes all activities and 2 hours of English lessons per day

Drop off 8am to 9:30am: Collection 4:30pm to 6pm

If you are an agent booking on behalf of a parent, please visit our language school sister company Varsity International - go to their website
If you're looking for a residential summer camp, our sister programme Varsity International offer brilliant integration summer courses for children aged 8-14. Go to their website for details.