15th December 2022
Are you thinking about sending your child to a holiday camp? Holiday camps are a great way of encouraging your child to try something new, be more active outdoors, learn new skills, immerse themselves in fun activities and also give parents a break during the holidays! 
Not only do they provide a fun and social environment but they also encourage active play, self-discipline, teamwork, and independence. They can also be beneficial if your child gets bored of their regular day-to-day schedule easily - which in our experience is most children!
 Read on to learn more about the benefits of attending holiday camps and why your child should attend one over the holidays.
Teaching Kids How To Work Together And Communicate
One important skill all kids should practice from a young age is how to interact with others. Holiday camps are the perfect way to do this as often activities are run in small groups encouraging children to work with other children their own age outside of their usual circle of friends. This helps them develop both their communication and collaboration skills, and improve their confidence levels along the way. 
They will also learn how to work as part of a team and how to set goals and manage their expectations. Holiday camps can also be a good place to improve other skills including creativity, survival skills, leadership and adaptability.
Encourages Physical Activity
Holiday camps are a great place to encourage your kids to be more active. There are plenty of activities that focus on outdoor play, which is great for developing a sense of independence and confidence. Sports and activities like swimming, zorbing, inflatables, archery, football, and team sports are often available at holiday camps. Your child can either challenge themselves and try something new or choose an activity that fits with their current skill set if they prefer to stay in their comfort zone. There's always something for everyone!
Develops Self-Discipline And Teamwork
Self-discipline and teamwork are important life skills that can be learned at holiday camps, thanks to a focus on teamwork through sports or outdoor activities. Kids can also learn how to be more self-disciplined while they learn to follow rules and expectations. It's also an opportunity for them to understand the importance of goal-setting and having realistic expectations. The list of benefits doesn't end there! Holiday camps are also a great way of building confidence encouraging better levels of self-esteem and developing a positive, can-do attitude.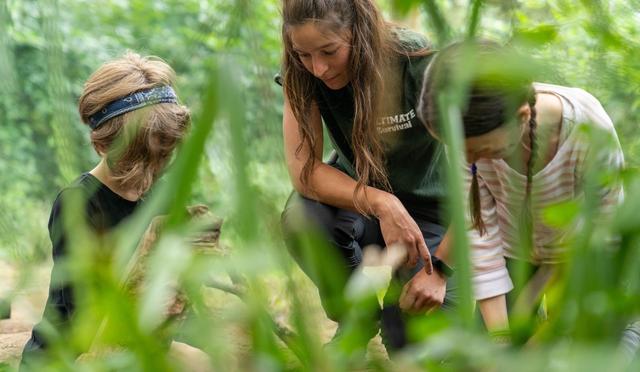 Inspiring Outdoor Play and Exploration
Children need to feel as though they have a purpose and something meaningful to contribute to the world - as we all do. Humans thrive on this. Holiday camps can provide this by encouraging your kids to explore and discover different things in a safe environment perfect for trying something new whether it be outdoor play, sports, or arts and crafts. They can also explore and discover new interests through participation in outdoor activities like hiking, camping, bushcraft, outdoor cooking or a sport they haven't tried before.  
Helps Build Confidence and Character Development
Holiday camps are an excellent opportunity to help your kids to cultivate confidence and learn to be more assertive. Participation in sports and other active activities with other children from outside their usual circle can help your child develop confidence and learn to assert themselves physically, mentally and emotionally when interacting with others. All of this is a wonderful way of helping them to develop into resilient individuals ready to take on the world. They are also a fantastic way of helping children to feel more independent, discover what they are good at and challenge themselves - all of which are invaluable for their development.

Whether your child is looking for something new or just wants to explore the outdoors in a new setting, holiday camps will leave them feeling refreshed and inspired. They are perfect for children who need a break from the rigid structure of school or who want to immerse themselves in activities they enjoy during the holidays. Not only do they provide a fun and social environment but they also encourage active play, self-discipline, teamwork, and independence. They can also be beneficial if your child is bored with their regular day-to-day schedule. As you can see there are so many benefits of attending holiday camps for your child. From teaching kids how to work together and communicate, encouraging physical activity, and developing self-discipline and teamwork. All of this while parents get a break too!